DR. BARRETT MANN, Medical Director

Dr. Mann was born and raised in Birmingham and attended college at the University of Richmond in Virginia. She came back to Alabama to attend Auburn University College of Veterinary Medicine and graduated Summa Cum Laude in 2007. She has been practicing at Cahaba Valley since 2007. Her professional interests include ultrasound and internal medicine. Dr. Mann and her husband Taylor have 2 sons, Thomas and Samuel, 2 dogs, Betty and Arlo, and one cat named Jinx. She is a member of the Service Guild of Birmingham, an organization supporting The Bell Center for Early Intervention Programs. Dr. Mann enjoys running, backpacking, and travel.
"My daily goal as a veterinarian is to practice from the heart with empathy and compassion. I strive for my patient and clients to feel supported especially in challenging situations."
Dr. Wright received his Doctor of Veterinary Medicine from Auburn University College of Veterinary Medicine in 1985. He began his career in Guntersville, AL, in a mixed animal practice where his patients included not only dogs and cats but horses, cattle, and other farm animals. He joined Cahaba Valley Animal Clinic in December of 1999. Along with his years of general practice experience, Dr. Wright also worked part-time in emergency clinics for over twenty years. He is well known for his relatable bedside manner and his surgical skills. He enjoys golf, a good book, fishing and hanging out with his grandkids. He recently reached a new milestone in his life and is now a great-grandfather! He and his wife, Delaine, have two dogs and a cat and both enjoy spending their time out on the water.
Dr. Meyer grew up in Tuscaloosa, where she spent the majority of her childhood dreaming of becoming a veterinarian. She transferred from Shelton State Community College to Mississippi State University, graduating with a B.S. in Animal and Dairy Sciences. Later, she pursued her dream at Mississippi State's veterinary school and graduated in 2017.
For two years, she worked on a dairy farm where she used to show cattle. She practiced at several local clinics before coming to Cahaba Valley, in August 2021, as a relief doctor. As of December 2021, Dr. Meyer joined the team full-time, bringing her witty humor, fun personality, and capability as a thorough diagnostician. She loves working out and spending time with her family, which includes her husband and a full pack of dogs.
Jamie Nelson, Practice Manager
Although Jamie grew up in California, she has also lived in England, Massachusetts, and Tennessee. She has a Bachelor of Science degree in Pre-Veterinary Science from UMass Amherst. Following her college career, she worked as a Zookeeper for close to ten years. During this time, she cared for a wide array of animals ranging from penguins, primates and otters to giant pandas, tigers, hippos, crocodiles and more. She was President of a non-profit, opened and help developed a new zoological exhibit, became Scuba Certified and was Conference Chair of the 2016 National AAZK Conference.
After moving to Alabama with her Husband, she found her way back into the Veterinary field and started working at Cahaba Valley Animal Clinic in 2018 in reception. Since then, she was promoted to Office Manager, worked at an Emergency and Specialty veterinary facility before coming back to CVAC as Practice Manager.
When not at work, Jamie can be found enjoying time with her husband and cats. She loves musical theater, video games, puzzles and traveling.
KATIE HORTON, Assistant Practice Manager
From Wilsonville, Alabama, Katie holds a Bachelor's degree in Elementary Education. However, her true passion lies in animal care. It has been that way since she was a child; she dreamt of pursuing marine biology and perhaps even becoming a dolphin trainer! Katie has been in veterinary care since 2019.
She is professionally known for her warm customer service and eagerness to help other departments run smoothly.
When not at the clinic, she can be found enjoying a book on her bed, working in her flower garden, or hanging out with her husband of 17 years and two teenage daughters.
MEGAN STOFFREGEN, LVT, Veterinary Technician Manager
Megan joined the CVAC team in the summer of 2016, starting as a Kennel Tech, she worked her way up to Kennel Manager, and now Technician Manager. She is now a Licensed Veterinary Technician and holds an Associate of Science degree and an Associate in Applied Sciences, Veterinary Technology.
Professionally, Megan is known for specializing in surgery anesthesia, emergencies, and venipuncture. She is especially talented at calming down any stressed animals, in a loving way.
When not at the clinic, Megan can be found at home enjoying nerdy movies with her fiancee. She also enjoys spending time outside for lake days, hiking, or sports.
MADISON HIGGINS, Kennel Manager, Vet Assistant
Madison is professionally known for skillfully working with fractious cats. Her specialty lies in anesthesia and surgery, with a special interest in exotic animals.
During her free time, Madison enjoys attending concerts with friends or spending time outdoors and painting.
VICKI GRAHAM, Client Patient Coordinator
Vicki first entered the veterinary field in 2010 when she came to work at CVAC. Over the past 13 years she has been working tirelessly as a veterinary assistant in our hospital. Some of Vicki's favorite aspects of the job have always been building relationships with clients and education. Her favorite topics include preventative services, such as vaccines and dental cleanings. Over the years, she has become an invaluable support system for many and has a talent for making folks laugh on a hard day! So, it only made sense that Vicki become our new Client Patient Coordinator! Now she spends her days giving extra support to our CVAC family. She calls back to check on your fur babies, answers any medical questions you may have, works directly with the Doctor's to communicate lab results, handles online prescription requests and more. She loves caring for exotic birds, although her favorite animal is a turtle. When not at the clinic, she enjoys hanging out at the house with her partner, Kim, and dog, Sable, watching Auburn football and deer hunting.
Kelsey Lowery, LVT, Veterinary Technician
Kelsey graduated from Jeff State Veterinary's nursing program in 2016 to become a licensed veterinary technician. Even though her dream job as a child was to be a stay-at-home mom, she has worked in veterinary medicine since 2014.
Kelsey especially enjoys venipuncture and client education. She is Fear Free certified and was internally nominated for a Golden Retriever Award!
When not at work, she can be found frequenting her church with her family.
Rachel Beasley, LVT, Veterinary Technician

Rachel grew up in Woodstock, Alabama. She has been working in veterinary medicine since 2019 and joined our team in the fall of 2022. She recently graduated from the Veterinary Technician Program at Jefferson State and is now a licensed veterinary technician! As a child, Rachel's dream job was to help animals, whether that meant becoming a veterinarian or any other position in the field. In her work environment, she is known for taking the time to go out of her way to make sure patients are comfortable and loved. When not at the clinic, Rachel can be found enjoying her home with a good book, or baking. She also enjoys cozy walks in the woods.
AMANDA MALTZ, Veterinary Assistant
Amanda grew up in Gardendale, Alabama. Like many in our CVAC family, she dreamt of being a veterinarian since childhood. She pursued her passion and attended Auburn University for an undergraduate degree in Wildlife Ecology Management; she has picked up veterinary medicine as of 2021.
When not at work, Amanda can be found enjoying the outdoors, beach, hiking, and spending time with her three dogs and three cats!
Katie Rankin, Veterinary Assistant
Katie graduated from Springville High School in 2018 and has dreamt of working in the veterinary industry since childhood. She has been a Veterinary Technician for years and feels proud and happy to be working in the field.
She is known for efficient intubation and specializes in wellness visits and venipuncture.
When not at work, Katie can be found spending time with her family and friends or being lazy at home with her dogs while watching Netflix. She also enjoys lake days!
LOGAN Rosemoore, Veterinary Assistant
Logan grew up in Brookwood, Alabama, and has been in the veterinary field since 2017.
Although he wanted to become a Paleonotoligist as a child, he began his career in veterinary medicine by starting in private practice, and then corporate ER, too. He is known for keeping calm and handling emergencies very well.
When not at work, Logan can be found at home spending time with his family and dogs or playing videogames like WoW or Pokemon.
Garnea Schybal, Veterinary Assistant
Garnea was born in Tennessee but has lived in Ohio, Kentucky, Florida, and Alabama. She has been working in veterinary medicine for four years, originally as a kennel technician, and worked her way up to a veterinary assistant.
As a child, Garnea dreamt of becoming a DVM, specifically owning her own rehabilitation sanctuary for all types of animals
Known for compassionate patient care, Garnea's specialty lies in surgery/anesthesia, client education and relations, handling nervous and/or fractious animals, and venipuncture.
Outside of work, Garnea enjoys taking her dogs on hikes and places to swim. She also likes attending concerts and festivals, and enjoys any kind of traveling.
Taylor Allen, Veterinary Assistant
Taylor Allen grew up in Trussville, Alabama dreaming of being a veterinarian or a physical therapist. For nearly 7 years, Taylor has been working with animals in both boarding kennels and veterinary clinics. She currently specializes in new puppy education and training, breed-specific education and training, and venipuncture on sick or small/juvenile animals.
Taylor previously worked at CVAC for 2 and half years, rejoining the team in October of 2022. She started in kennel and worked her way up to becoming a veterinary assistant.
At home, Taylor enjoys reading or watching true crime documentaries. Taylor also loves hiking, camping, and outdoor festivals and events. Either way, she'll be spending quality time with her two dogs, Bristol and Gnash.
Brandon Roberts, Veterinary Assistant
Brandon is currently attending UAB and hopes to attend medical school, as he intends to become an Orthopedic Surgeon.
He is known for bringing excellent petcare and a vigilant eye to our kennels. Brandon ensures all animals are taken care of, including food, water, treatment, and cuddles.
ALEXIS ROSEMOORE, RECEPTIONIST
Alexis is from Northern Virginia and received her Associate's degree in Business Management. When she was a child, her dream job was to either become a veterinarian or an artist. She couldn't help but translate her love for animals into a profession.
Alexis has been working in the veterinary field since 2017! It is often that she mentions not being able to envision herself working in any other field. Her outstanding customer service is dearly admired and appreciated by our clients.
On her time off, she can be found spending time with her family and five dogs!
HOLLY MCCLAIN, Receptionist
Holly grew up in Birmingham, Alabama. She is a proud mom who graduated from Oak Mountain High. She has a broad professional background, holding positions as a Catering Coordinator and Barista prior.
Her dream job as a child was to become a zookeeper, and Holly is known for her hospitality; making her the perfect fit for our CVAC family!
When not at work, Holly can be found hanging out with her daughter, playing video games, or reading a book.
Kaity Riley, Receptionist
Kaity grew up in Alabaster, Alabama, and has been in the veterinary field for 3+ years. She brings experience in kennel, reception, and technician. She attended Troy University and Jefferson State's Veterinary Technician program.
Ironically, her dream job as a child was to be an FBI agent. She is now known in her workspace for specializing in lab work and remaining calm and collected during stressful environments.
During her free time, Kaity can be found in downtown Birmingham or enjoying hobbies such as swimming, reading, and writing.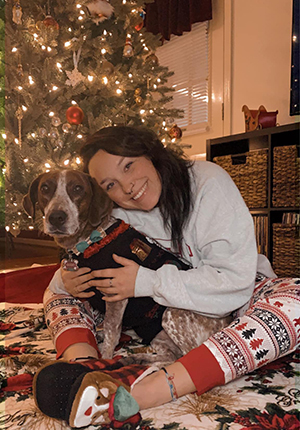 Candace Brasher, RECEPTIONIST

Candace was born and raised in Leeds, Alabama. She graduated from Chelsea High School in 2021 and has been a part of our team since 2019. At a young age, Candace dreamed of being a veterinary technician. So, it goes without saying that Candace was excited to start her journey working in the veterinary field as soon as she could. She is known for taking care of our boarding babies over the years. This included giving them extra love, attention and snuggles. She is also a pro at getting those baths and nail trims done as stress-free as possible! Candace has recently made the change to join our receptionist team up front and has made a seamless transition into the role. When not at work, Candace can be found at the gym, at the park or hanging out with her friends.
Arleen is the Groomer here at CVAC, and she wouldn't want to be anywhere else! She has been grooming at Cahaba Valley Animal Clinic for 21 years.
When Arleen is not at the clinic, she likes to go kayaking. She enjoys to be out on the water with the ducks, fish, turtles, and birds, and loves being surrounded by nature.
"I treat my grooms like they are my own while they are here, and I treat my clients like I would want to be treated. We have everything here for all of your needs, from prescription diets to teeth cleaning, medical care, and senior care. Come and meet our staff and doctors and you will see why I love it here. Maybe you will love us too!"
Wyatt Higgins, Clinic Dog 
With a heartbreaking story from the past that includes animal abuse, our clinic dog Wyatt is now flourishing with the CVAC family.
Previously scared of everything, Wyatt has learned to overcome this by coming to work every day with his mom; the progress is admirable!
He is professionally known for howling, cuddling, and vocalizing his excitement. Although he likes to spend time hanging out with our veterinarians upstairs, he can also be found giving the front desk a hand once in a while.
When not at the clinic, Wyatt can be found snuggling with his sisters, Toasty and Diamond, or going on adventures with his mom.